Afghan Pearl CBD Automatic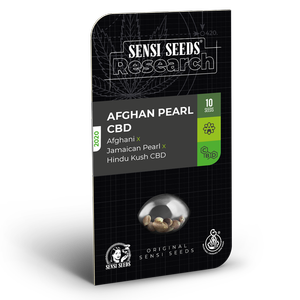 from
$ 5.12
per seed

Share this page
Available at

Afghan Pearl CBD Automatic
Afghan Pearl CBD Autoflowering is a balanced hybrid with 60% Indica and 40% Sativa. It has an impressive parentage, with a Hindu Kush CBD plant resulting in a THC / CBD ratio of 1:1 to 2:1. The effect is ideal for those seeking relaxation, but it also offers a sense of euphoria, thanks to award-winning Jamaican Pearl's influence.
The plants grows well in temperate and continental climates and have a flowering period of 70 to 75 days. They grow to around 80 to 100cm. This strain is capable of producing good-sized yields (around 400 grams/m2) and the buds having a range of 12% to 16% THC.
The taste and scent of Afghan Pearl CBD Automatic are earthy, sweet and pungent, with notes of fruit.
Compare prices for Afghan Pearl CBD Automatic
Specifications
Type of seeds
Autoflowering seeds
Flowering time
Long flowering period
Reviews for Afghan Pearl CBD Automatic