Cannabis cups & awards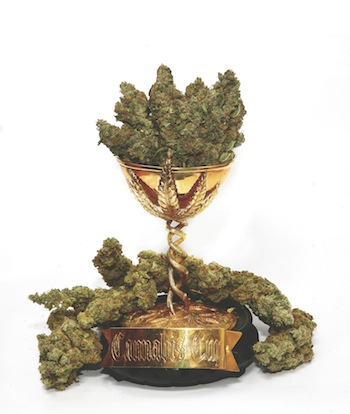 The New York based monthly magazine High Times has been, since its beginnings in 1974, highly influential in the marijuana using counter-culture right across the world. A long-standing advocate of the legalisation of marijuana and a vocal proponent of its medical benefits, High Times hosts a range of cannabis cups & awards in the United States and The Netherlands. Beginning in 2010, the Medical Cannabis Cup Events are a series of two day EXPOs/trade shows with vendor booths, informational seminars and live music and is designed as a celebration of America's medical marijuana movement, as well as an attempt to raise awareness of the issue. Recent years have seen cannabis cups & awards taking place in San Francisco, California and Denver, Colorado with further cannabis cups scheduled to take place in Clio, Michigan, Seattle, Washington and Los Angeles. While no marijuana is sold or distributed at the events, a medicating (smoking) area is provided for those carrying valid medical cards.
High Times Cannabis Cup
The granddaddy of all cannabis cups & awards is the annual High Times Cannabis Cup. Founded back in 1987 and held in Amsterdam every November (to coincide with Thanksgiving), the Cannabis Cup is a five-day celebration of all things marijuana. Each year, a team of judges samples and selects the winners in the following categories; best new product, best grass, best hash, best booth and best Nederhash. Heralded as an opportunity for marijuana aficionados to experience and enjoy cannabis openly and freely, the High Times Cannabis Cup has becomes a kind of annual mecca for the greener side of the counter-culture. Tickets for the Medical Cannabis Cup events and the main High Times Cannabis Cup can be booked online. Everyone is welcome at this truly unique event. Book early to not miss your place!
Cannabis Cup award winners at SeedSpotter