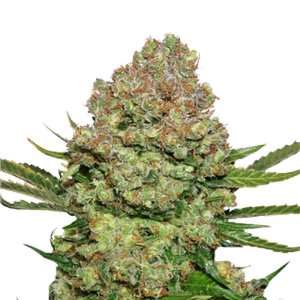 from
$ 1.85
per seed

Share this page
White Widow
The original White Widow was created with a pure Sativa land race from Brazil being pollinated by an Indica hybrid from southern India. This Indica hybrid, according to legend, is the result of years of selecting and breeding in the mountains of Kerala to produce high resin content marijuana plants.
White Widow stands at the head of the family of white strains, famous for the white layer of resin all over, the Sativa properties overrule the Indica and it'll turn out as a medium height plant with long wide dark green leaves. Since this strain was introduced in the year 1995, it has turned out to be a very popular breed. White Widow can be easily seen in several coffeeshops across Amsterdam.
White Widow seeds are growing fast, the plants are easy to clone and can be a great option to consider perfecting your growing techniques. White Widow will be finished flowering after 9 weeks and, with little maintenance required, it is a perfect plant for unexperienced growers. Conditions are perfect for growers who prefer a sea/screen of green operation.
The effects from smoking White Widow are the characteristics of a Sativa dominant plant, giving the user a high feeling without any loss of energy.
Compare prices for White Widow
Specifications
Flowering time
Long flowering period
Grow difficulty
Easy to grow
Type of seeds
Regular seeds
Awards
Cannabis Cup Winner