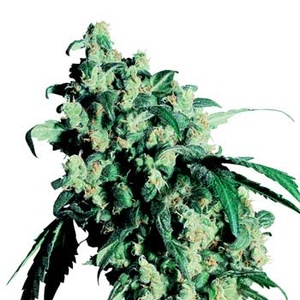 from
$ 2.50
per seed

Share this page
Skunk #1
Skunk seeds are popular for easy cultivation, this strain is one of the fastest and easiest ways to produce high quality cannabis. Skunk is one of the first stabilized Sativa-Indica hybrids (65% Indica & 35% Sativa).
The seeds of this strain yield a average production with an flowering period of 60 – 65 days. The high flower-to-leaf ratio makes it vulnerable to mold in the final 6 weeks of flowering. Skunk cannabis plants also grow to greater heights than pure Indicas upon flowering. The extra dark green of this strain's leaves comes from her Afghanica ancestors and contrasts sharply with her lime-green growing tips. Flowering is very fast and Skunk #1 produces robust stems and branches to support her superior yields. Sativa also has a wonderful influence on Skunk her potency and effect, a perfect combination of stoned and high.
What makes Skunk so popular is that it is useful for treating a range of medical disorders. When administered in small dosages, it has proved to be effective against pain, psychiatric symptoms, glaucoma, and asthma. When prescribed in average dosages, it is good for treating vomiting and nausea, autoimmune diseases, spasticity and anorexia. In high dosages, it can help in treating movement disorders.
On the whole, Skunk #1 is the hot favorite of a majority of cultivators across the world, for both beginners and experts.
Compare prices for Skunk #1
Specifications
Type of seeds
Regular seeds
Awards
Cannabis Cup Winner
Grow difficulty
Easy to grow