Sensi #119 - Blueberry x Skunk #1 Auto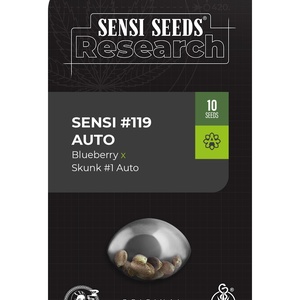 from
$ 6.95
per seed

Share this page
Available at

Sensi #119 - Blueberry x Skunk #1 Auto
Sensi #119 - Blueberry x Skunk #1 Auto is a mix of two old-school favourites, with the benefit of autoflowering. This hybrid is one of the easiest to grow from seed. Beginner growers can achieve great results.
The tests show high levels of THC and low levels of CBD. The plant can grow outdoors in cold climates, thanks to a short flowering time and indica growth patterns.
As an autoflowering strain, the yields are great for the amount of care and attention required.
Compare prices for Sensi #119 - Blueberry x Skunk #1 Auto
Specifications
Type of seeds
Autoflowering seeds
Grow difficulty
Easy to grow
Reviews for Sensi #119 - Blueberry x Skunk #1 Auto