Purple Hulk Auto Feminized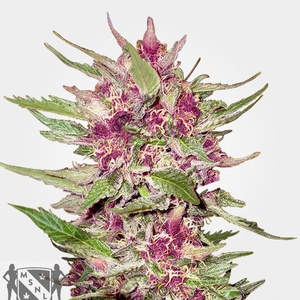 from
$ 7.68
per seed

Share this page
Available at

Purple Hulk Auto Feminized
Purple Hulk uses the strains of Grandaddy Purps which we gave the full auto treatment to release Auto GDP. This packed all of the flavour and colour of the original in a fast flowering automatic strain.
We wanted to make sure it kept that the crystal clear, sweet fruity taste and of course its legendary purple colour; but we also wanted more in the way of yield. To do this we took the massive yielding Big Bud Auto, crossed it with the original GDP and then crossed the result with an Auto GDP Mother. Once stabilised the finished plant uniformly produced bulky and dense multiple colas of purple..
The flavor profile has stayed true, sweet grape flavor with a slight overtones of pine and spice are blended in to the mix.
The low broad leaves and short internodal distance will also mean that if you are short on space this strain is a great way of filling up every corner.
Compare prices for Purple Hulk Auto Feminized
Specifications
Type of seeds
Autoflowering seeds
Reviews for Purple Hulk Auto Feminized