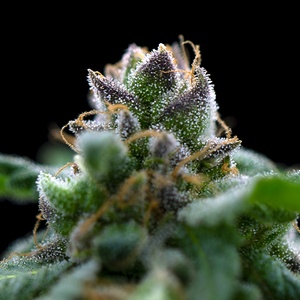 from
$ 8.11
per seed

Share this page
Available at

Bruce Banner
Bruce Banner was originally developed by Dark Horse Genetics with lineage from OG Kush and Strawberry Diesel. This Sativa-dominant beauty, famous for her high THC content, delivers one of the strongest punches in the biz.
Also indicative of the Hulk, she is a tall and sturdy plant with strong arms and beautiful crystal laden flower tops accented with minty green and purple undertones.
Having euphoric, creative and relaxing effects this wonderful strain is ideal for treating depression, anxiety, stress, and muscle tension.
This strain has satisfactory yields, doing well indoors and out under the right conditions.
The flowering time can vary from 8–10 weeks.
Additionally, this strain is naturally resistant to most pests and diseases.
Compare prices for Bruce Banner
Specifications
Flowering time
Long flowering period
Type of seeds
Feminized seeds
Grow difficulty
Easy to grow