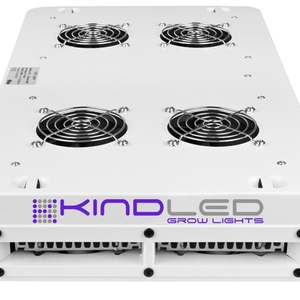 from
$ 745.00

Share this page
Available at

Kind LED K3 - L450
The Kind LED K3 series L450 Best LED grow lights are comprised of high powered 3 Watt Light Emitting Diodes featuring a proprietary intensified spectrum designed for flowering large yields. This revolutionary series of LED grow lights will produce the biggest and best yields, while consuming approximately half the electricity and producing virtually no heat. Your Kind LED Grow Light will cultivate record breaking yields, both in quantity and quality, while running quieter, cooler, and more efficiently than any other grow light. Guaranteed.
Kind LED grow lights are the ONLY 3 Watt grow lights that feature a 12 bandwidth full spectrum LED panel, a secondary high intensity optical lens, and 2CM aluminum circuit boards.
Benefits:
Replaces a 450w traditional grow light - while consuming just 270w
700 mA Driving Current Creates Up To 200% More Light Coverage
Proprietary 12 Band Complete 3 Watt "Perfect Spectrum"
Secondary Optical Lens Enhances Diode Efficiency and Magnifies PAR
Extra Large Heat Sinks, Quiet Fans, Precision Drivers, Superior Craftsmanship
Technical specifications:
Replaces: 450w Traditional Grow Light
Dimensions: 20″ x 11″ x 3″
Weight: 16 lbs.
Actual Wattage: 270w
HID Wattage Equivalent: 450w
Modules: 8
Diodes per Module: 15
Total Diodes: 120
Diode Wattage: 3w
Footprint: 2.5′ x 3.5′
Input Voltage: 100-240V AC Power Input
Work Frequency: 50/60 Hz – Suitable for Global Energy Environment
Output Voltage: UL Standard Output Voltage – Less than 76V DC
Amperage: 2.25

Brand

Compare prices for Kind LED K3 - L450
Reviews for Kind LED K3 - L450
All reviews
Sorry, there are no reviews yet for this product; Be the first to add one!
Add a review