Bluelab Guardian EC + pH-Monitor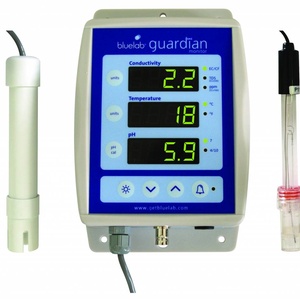 from
$ 244.98

Share this page
Bluelab Guardian EC + pH-Monitor
This BlueLab device measures all 3 critical parameters for successful plant cultivation. It measures the pH value, the conductivity and the temperature. It enables the grower to optimise the desired levels of EC, ppm 700, TDS, CF, pH and temperature parameters. The Monitor is mains powered and can be easily mounted to a wall or attached to a support with the probes placed into the reservoir.
Additional features: Adjustable brightness, large easy readable displays, push button pH calibration, silent alarm, international power supply.
Values: pH-Value, Conductivity, Temperature
Range: 0.0 / 0- 5.0 EC / 14.0 pH / 0-50 °C / 0-2500 TDS
Resolution: 0.1 pH / 0.1 EC / 1 °C
Accuracy: ± 0.1 pH / ± 0.1 EC / ± 1°C
Temperature-compensation: yes / yes
Operating-temperature: 0-50 °C / 32-122 °F
Brand

Compare prices for Bluelab Guardian EC + pH-Monitor
Reviews for Bluelab Guardian EC + pH-Monitor
All reviews
Sorry, there are no reviews yet for this product; Be the first to add one!
Add a review