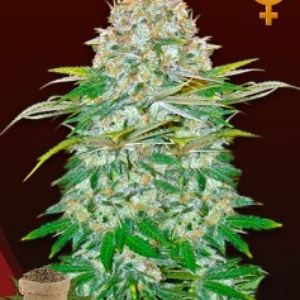 from
$ 9.00
per seed

Share this page
Available at

Jock Horror Automatic
While most hybrids are a mixed of two varieties, the Jock Horror strain is a blend of three namely, Northern Light, Skunk, and Haze. Its Northern Light parents give it its bountiful white trichosomes and its high yield potential as Northern Light is one of the best Indica varieties when it comes to yield.
Haze, a strain that is said to have originated from Jamaica gives it sativa qualities while the Skunk parents make it a great choice for Skunk variety connoisseurs. Jock Horror Autoflowering are very easy to take care of as it does not require strict compliance to giving the plant 12 hours light and 12 hours of darkness.
The plant can easily be identified with the large amounts of orange hair that cover its dense buds. The leaves are a bit thinner than normal while the branches show a great amount of resin and also shine with THC glands.
Jock Horror has a nice aroma. It generally smells like a fresh pungent citrusy smell with a tone of sweet skunk.
Compare prices for Jock Horror Automatic
Specifications
Flowering time
Long flowering period
Type of seeds
Autoflowering seeds
Reviews for Jock Horror Automatic