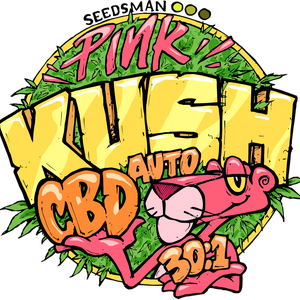 from
$ 5.54
per seed

Share this page
Available at

Pink Kush CBD 30:1 Auto
This 90% Indica cannabis strain is a cross a between Pink Kush CBD Auto and Pink Afghan CBD Auto. Pink Kush CBD Auto has a CBD:THC ratio of 30:1. CBD is rated at approximately 17% with only 0.5% THC.
This autoflowering cannabis seeds are suitable to grow indoors and outdoor and can be harvest after 9 weeks.
The effect after smoking Pink Kush CBD Auto is a soft, light, relaxing body high with a taste of pine with earthy hints of red fruits.
Compare prices for Pink Kush CBD 30:1 Auto
Specifications
Type of seeds
Autoflowering seeds
Grow difficulty
Easy to grow
Reviews for Pink Kush CBD 30:1 Auto