Cookies Chill CBD 2:1 Feminized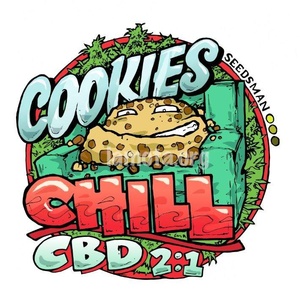 from
$ 5.54
per seed

Share this page
Available at

Cookies Chill CBD 2:1 Feminized
Cookies Chill CBD 2:1 is a high-CBD poly-hybrid strain. The mother is a cross of pure Girl Scout Cookies and LA Confidential while its father is a Totem CBD. It is a high-yielding medicinal strain with a CBD:THC ratio of 2:1.
For indoor growers the recommended time for its vegetative growth phase is between 15 - 25 days. Flowering takes 70 - 75 days with the optimum temperature range for growth being between 22°C - 26°:C. It has been tested and found to survive down to 8°C and at levels as high as 38°C.
These plants have a robust structure with many closely-spaced inter-nodes or bud sites. Its strong stems are thick and the buds are very dense and hard. Leaves are broad and large too. Typical yields are between 400 - 500 gr/m2 indoors or as much as 1000 gr/plant indoors.
This strain has scents and flavours of lemon, earth, Kush and fruits. THC levels fall in the range 7% - 9% while CBD is rather higher at 15% - 17% giving a CBD:THC ratio of 2:1.
Compare prices for Cookies Chill CBD 2:1 Feminized
Specifications
Type of seeds
Feminized seeds
Reviews for Cookies Chill CBD 2:1 Feminized