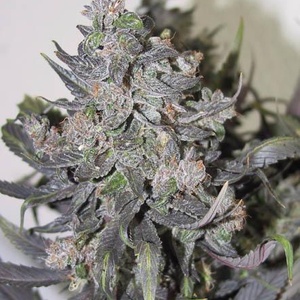 from
$ 2.32
per seed

Share this page
Blue Mystic
Blue Mystic cannabis seeds are a good choice for everyone who loves a sweet berry taste, high yield and a relaxing effect.
Blue Mystic is a mostly Indica strain and if you give it the right treatment the buds get a fluffy purple blue colour when they're almost ready.
The plant grows up to a medium height and has a normal growing period suiting the Indica properties.
Blue Mystic is very suitable to grow indoors, outdoor growing is possible but only if you're sure the weather won't get too moist or cold.

The effect of Blue Mystic is a heavy stoned feeling taken over by a relaxed but energetic buzz that won't knock you out.
As the name indicates, Blue Mystic is a mysterious strain with unidentified genetics that certainly has some Northern Lights or Skunk and little bit of Blueberry genes.
Blue Mystic flowers between 7-9 weeks and is quite delicate when compared to the other varieties. It is a good option to be considered by those marijuana growers who require discretion. It spreads a distinctive blueberry smell and presents a light blue color, which makes the buds covered with trichome to appear almost gray. The plants grow to a height of just more than 1m, though cultivators are advised to either top or pinch the plant to produce a bushy plant.
Blue Mystic grows almost in the same way as Northern Light, when compared to other strains, it has a quite neutral smell while growing.
Compare prices for Blue Mystic
Specifications
Flowering time
Long flowering period
Type of seeds
Regular seeds