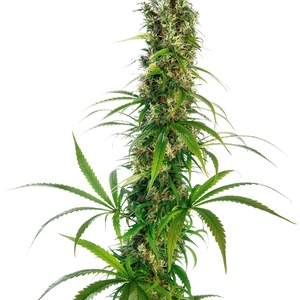 from
$ 6.02
per seed

Share this page
Available at

Michka regular cannabis seeds
Michka, created by Sensi Seeds, is an 80% Sativa-dominant seedstrain, named after one of the greatest women in cannabis culture: our French 'Grande Dame', Miss Michka Seeliger-Chatelain. Cannabis lovers of citrus scented Sativas will love this fast growing plant. Michka has a long flowering time, but the yield is worth waiting for. This strain will grow dense, light and fluffy buds. In a colder climates, Michka is most suitable as an indoor cannabis strain. Especially when grown in open soil this seedstrain will reach amazing heights.

This 80% sativa has an uplifting effect, coupled with an energetic high that is very artistic and creative, with a long effect and no downside of tiredness.

Once cured, Michka's buds retain its citrus scent, while developing a true sweetness that makes it very refreshing to smoke or vaporize.
Compare prices for Michka
Specifications
Flowering time
Long flowering period
Grow difficulty
Experienced
Type of seeds
Regular seeds