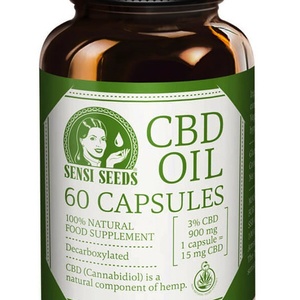 from
$ 34.70

Share this page
Available at

CBD Oil Capsules
CBD Oil Capsules from Sensi Seeds are made from natural, pesticide free, EU grown hempplants. Each easy-to-swallow capsule contains 15 mg of high quality organic cannabidiol (CBD), suitable for vegans.
CBD Oil Capsules have good anti-inflammatory qualities and can give several positive health benefits, including easing conditions related to epilepsy, multiple sclerosis, schizophrenia and people recovering from damage caused by a brainstroke or cardiac arrest.
CBD Oil Capsules are 100% natural and come in a bottle with 60 capsules, containing 15 mg of CBD each.
Brand

Compare prices for CBD Oil Capsules
Reviews for CBD Oil Capsules
All reviews
Sorry, there are no reviews yet for this product; Be the first to add one!
Add a review