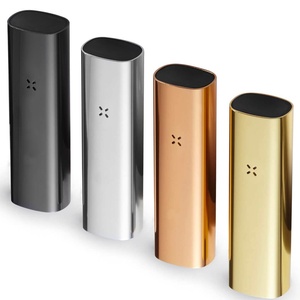 from
$ 301.12

Share this page
Available at

Pax 3 Vaporizer
The PAX 3 vaporizer by PAX Labs is a very smart, dual-use portable vaporizer for dry herbs and extract substances. PAX vaporizers let you unlock the active substances of plant material at low temperature, releasing ingredients like cannabinoids in a pure and flavourful vapour. The PAX 3 vaporizer has four temperature settings which can be easily changed by setting the petal's LED colour-indicator for your desired temperature.
The premium PAX 3 vaporizer operates a very intelligent, intuitive user interface. It has a very small, discrete and portable design. The vaporizer comes in a great giftpack and is available in several metallic colours.
Included with the PAX 3 vaporizer:
Concentrate insert
Three screens
Two mouthpieces
Two oven lids
Charging cable and dock
Battery filling tool 3500 mAh
Maintenance kit and multi-tool
Specifications:
Temperature range: 180°/ 193°/ 204° / 215° C
Height: 9.83 cm
Width: 3.07 cm
Depth: 2.16 cm
Weight: 93 g
Compare prices for Pax 3 Vaporizer
Reviews for Pax 3 Vaporizer
All reviews
Sorry, there are no reviews yet for this product; Be the first to add one!
Add a review