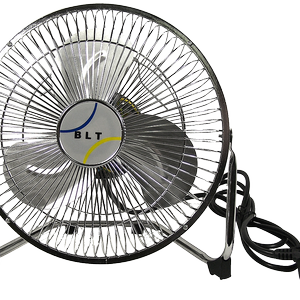 from
$ 45.17

Share this page
Available at

BLT high velocity fan
With this High Velocity Fan you get a powerful fan to be placed on the floor with a choice of 2 stages to set the speed of the turning blades.
The device is solidly constructed out of metal. The diameter of only 21 cm allows to place it even in unamenable corners. At the backside of your fan you will find two clips to fix the plug cable to. Above this you'll find the switch to set the two speeds. Due to the angles the cover with the blades is almost 360° turnable.
Noise levels (own measurement):
Level 1 - 82 dB
Level 2 - 96 dB
Diameter: 21 cm
Power: 25 Watt
Voltage: 220-240 V
Brand

Compare prices for BLT high velocity fan
Reviews for BLT high velocity fan
All reviews
Sorry, there are no reviews yet for this product; Be the first to add one!
Add a review