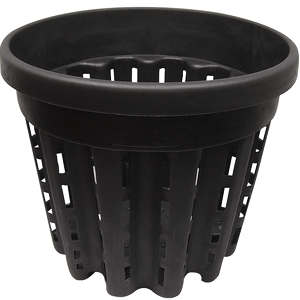 from
$ 2.90

Share this page
Available at

Fast Root Pot
The difference between this Fast-Root Pot and a normal plant pot is obvious. In an ordinary grow pot, roots normally grow until they encounter the wall of the pot. Then they change direction and start growing ring-like. This type of root formation is called root circling. When you implant your plants into another soil or into open land, the root runners can hardly integrate. To avoid that, you use the Fast-Root Pot.
The Fast-Root Pot has a undulating pot wall with holes and the Fast-Root Pot allows a faster growth, without monitoring the cultivation constantly. The roots grow against the wall of the Fast-Root Pot and then they grow through the holes. There, the root runners get no water, but many oxygen. The root runner's ends begin to dehydrate and fall off. After that, new roots start to grow to the sides and a dense network of roots inside the pot accrues. The advantage is, that the roots grow in a linear direction, no longer ring-like, the plants integrate faster into new soil after being transplanted (the root structure stays complete).
Diameter: ca. 26 cm
Height: ca. 22 cm
Fill quantity: ca. 7,5 L
Made out of High-Density Polyethylen (PE-HD)
Compare prices for Fast Root Pot
Reviews for Fast Root Pot
All reviews
Sorry, there are no reviews yet for this product; Be the first to add one!
Add a review