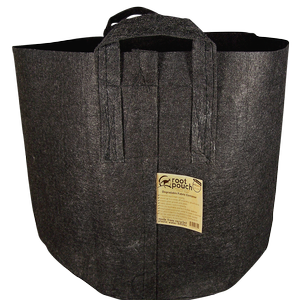 from
$ 8.11

Share this page
Available at

Top Root Pouch
This Top Root Pouch is a completely ecological plant pot with a volume of 56 liter.
This bag, wich looks like a carrier bag, is a practical and completely ecological plant pot. The Top Root Pouch is protecting the roots from heat, cold and moisture. With the Top Root Pouch you do good to your plants, and also support the environment, because the material consists of recycled plastic bottles. Anyhow the Top Root Pouch is breathable and a good place for your roots to sprout.
The Root Pouch plant pots are available in different material thickness from 90 till 280 g/m². Especially the thinner ones (90-150 g/m²) are suited for scions and seedlings ( even for planting them outside including the pouch) as well as for automatic irrigation systems. The Pouches with a higher wall thickness are well suited for traditional plant pots. Furthermore, they are so solid that you can transport heavy tub plants without problems.
Brand

Compare prices for Top Root Pouch
Reviews for Top Root Pouch
All reviews
Sorry, there are no reviews yet for this product; Be the first to add one!
Add a review