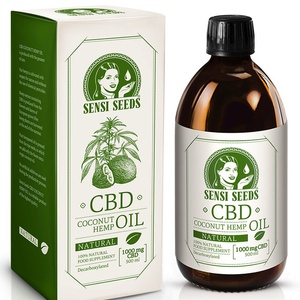 from
$ 28.90

Share this page
Available at

CBD Coconut Hemp Oil
Sensi Seeds' CBD Coconut Hemp Oil Natural is natural food supplement that combines CBD hemp oil with coconut oils, making it a rich source of essential oils, vitamins and amino acids. With its unique combination of ingredients, CBD Coconut Hemp Oil Natural provides a nutrient boost with a natural flavour, enhancing your health and natural vitality. CBD Coconut Hemp Oil Natural is 100 percent natural, gluten-free and suitable for vegans. It is produced from EU-certified hemp plants, without pesticides, herbicides or additives.
Its main active ingredient is cannabidiol, or CBD, which is a natural constituent of the Cannabis sativa L. plant. This CBD gives no psychoactive effects, but it has several health benefits. The oil contains balanced amounts of CBD, lauric acid, gamma-linolenic acids (GLA), vitamins and antioxidants. This combination of ingredients provides many positive health benefits, including antibacterial, antiviral and antiprotozoal properties. This product has also potential immune-boosting properties and can boost the effects of cancer treatment. CBD Coconut Hemp Oil Natural can also play a role alongside medical treatment, in managing conditions such as epilepsy, schizophrenia and multiple sclerosis, as well as help repair the damage caused by a brain stroke or cardiac arrest
CBD Coconut Hemp Oil Natural is available in bottles of 250 and 500 ml, containing 500 and 1000 mg of CBD respectively.
Brand

Compare prices for CBD Coconut Hemp Oil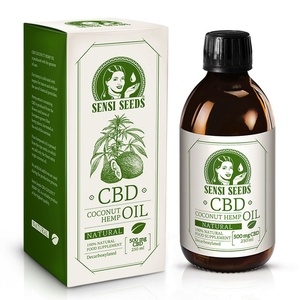 Reviews for CBD Coconut Hemp Oil
All reviews
Rusland
Hallo, is het mogelijk te leveren aan Rusland?
"Editor" cbd olie kan wel besteld worden, wietzaden niet.
Add a review