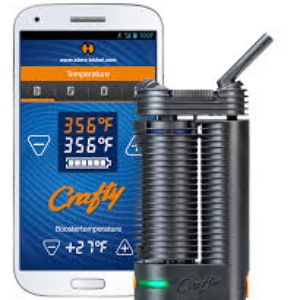 from
$ 260.60

Share this page
Crafty Vaporizer
The Crafty vaporizer is designed for precise temperature control and automatically adjusts the heating process to be accurate up to a single degree. A unique feature of the Crafty is the ability to connect to the Crafty smartphone app. Using your phone and a Bluetooth signal, you can customize the temperatures between 40°C and 210°C.
The included liquid pad enables you to vaporize oils & concentrates. Of course this vaporizer is perfectly for dry herbs as well.
The Crafty is the smallest portable vaporizer from German company Storz & Bickel.
Included:
USB charger and country-specific plug
Cleaning brush
Concentrate pad
Replacement O rings & screens
Filling tool/funnel
Grinder
Three spare screens
Specifications:
Height: 10.92 cm Width: 5.59 cm Depth: 3.30 cm
Weight: 136 grams
Heat output: 27 W
Brand

Compare prices for Crafty Vaporizer
Reviews for Crafty Vaporizer
All reviews
Crafty vaporizer
Got this vaporizer from the Sensi shop without any problem. Really liked the small size of it. Used it so far with some dry stuff, which went real well when i used the app to check the temperature increase. Managed to make the vape go exactly as I wanted.
Add a review